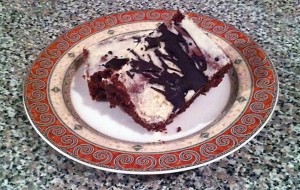 My late aunt made these and then gave me the recipe years ago. I expect they came from somewhere else, but I don't know the source. I made them for a party I went to last night, and that's gotten me thinking about them again. As to whether they're the "best ever," I don't know. But they're awful damn good.
Make the Brownies:
2 sticks butter, softened, plus extra for the pan
2 cups sugar
4 eggs
4 oz. unsweetened chocolate, melted (I did this in the microwave. One-minute increments, 50% power.) and cooled slightly
1 tsp vanilla
1 cup all purpose flour, plus extra for the pan
1/2 tsp salt
1 – 2 cups chopped nuts
Preheat oven to 350°. Butter and flour a 13 x 9-inch baking pan.
In the workbowl of a standing mixer at medium speed, cream the butter and sugar until the micture turns light and fluffy, about two minutes. Scrape down the bowl and then beat in the eggs one at a time with the mixer running (you may have to lower the speed). Turn off the mixer and add the chocolate, vanilla, flour, and salt. Combine at low speed. (Scrape down the bowl if needed during this whole process; be sure everything is incorporated.) Add the nuts. Pour into the buttered-and-floured pan, and bake for about 25 minutes; don't overbake. They're done when a broom straw inserted into the center comes out clean or with a few crumbs sticking to it. Cool on a baking rack until completely cool.
Make the Frosting Layer:
1/2 stick butter, softened
3/4 cup confectioners' sugar
5 Tbsp whipping cream
1 tsp vanilla
In a medium-size bowl, combine all the ingredients and whisk until smooth. This process will yield a nearly-white frosting. It will be nearly liquid at room temperature. Spread it on top of the cooled brownies (if they aren't cooled completely, the frosting will melt.) and refrigerate to firm up a bit.
Make the Glaze:
2 oz. unsweetened chocolate
2 tsp butter
In a small bowl, melt the butter and chocolate. I did this in the microwave, too, per the above instructions. Drizzle on top of the frosting layer. Chill to harden.
Cut, serve, and enjoy.